Welcome to the Onshape forum! Ask questions and join in the discussions about everything Onshape.
First time visiting? Here are some places to start:
Looking for a certain topic? Check out the categories filter or use Search (upper right).
Need support? Ask a question to our Community Support category.
Please submit support tickets for bugs but you can request improvements in the Product Feedback category.
Be respectful, on topic and if you see a problem, Flag it.
If you would like to contact our Community Manager personally, feel free to send a private message or an email.

Summary of "Turbocharging Onshape" Video
samuel_holland
Member
Posts: 30
PRO
I wrote out some of the main take-aways from the great video this week. Figured I should share it separately too.
Video Link: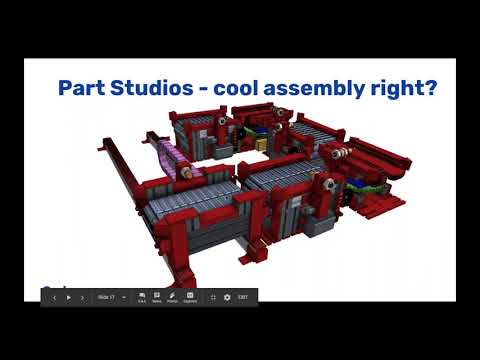 Summary:
- Turn off "match pixel density on high resolution displays" in your Environment profile settings (My Account > Preferences)
- When sketching on the face of an imported part with lots of geometry it is sometimes beneficial to do a 0 distance offset plane and sketch on that plane to prevent the program from lagging. This is because the program will not try to automatically select edges and vertices of the existing geometry, although you can still do this using sketch constraints if needed.
- Keep part studios small and only for interrelated geometry. (This one is still tough to figure out for me)
- Add variables inline in the feature tree instead of at the top. They won't need to be recalculated each time
- Put "expensive" features as close to the top of the tree as possible. It won't need to rebuild as often.
- Face patterning is much faster than feature patterning because it is not recreating an instance of the feature each time.
- If a feature pattern is required for some reason, un-checking the "apply per instance" will speed up rebuild. Can't be done for all geometries though.
- Changes need to propagate through derive chains and can add up.
- Derive can be used to break up a long feature tree if you reference versions of derives. (Watch this: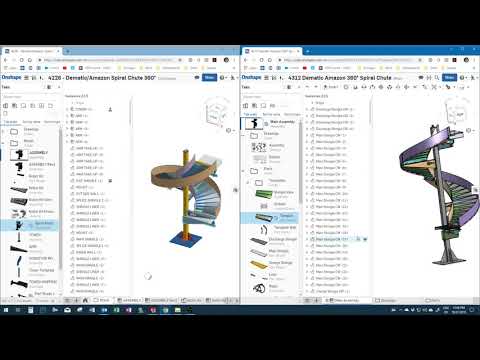 )
- Use master layout sketches and derive into other parts to reduce burden and share geometries using Top-Down method
- Don't duplicate identical parts in part studios. It messes us assembly BOMs. Add extra instances in assembly
- Only derive ONCE from each part studio (don't select individual components from a part studio. Onshape still brings everything in first)
-
Own Sketch custom feature
allows you to use hide/show individual sketches of a derived part
- Can force lower resolution tessellation to reduce regeneration time of bodies for complex parts. Leave at auto for simple parts
- Each 'first use' of a configuration requires a rebuild of the part studio. Be careful if using large numbers of configurations. Onshape is working on it!
- Changing a sketch or feature in a part studio requires rebuilding of configurations. Switching does too. They're looking to fix this soon.
- GOLDEN RULE: Wherever possible, reference a version or a revision of a part studio. RMB - Change to version - Select Version (Requires a version to be made first). Can always update to latest version to pull in changed files. Its better to use revisioning if you have the ability to
We started to do this for our team but it quickly gets old having to update to latest versions for derives. It seems more like a hack than a good workflow.