Welcome to the Onshape forum! Ask questions and join in the discussions about everything Onshape.
First time visiting? Here are some places to start:
Looking for a certain topic? Check out the categories filter or use Search (upper right).
Need support? Ask a question to our Community Support category.
Please submit support tickets for bugs but you can request improvements in the Product Feedback category.
Be respectful, on topic and if you see a problem, Flag it.
If you would like to contact our Community Manager personally, feel free to send a private message or an email.

New spot weld connections in Altair SimSolid Cloud
KenWelch
Member, Developers
Posts: 22
PRO
Spot welds are now available in Altair SimSolid Cloud. This works directly on solid geometry and connects two or more parts with a spot weld of a specified diameter.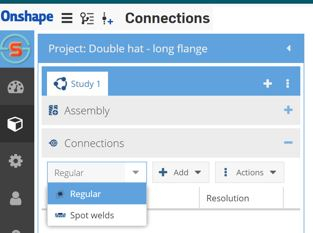 Spot welds can be picked individually or along a multi-segment poly-line.
Best of all, spot weld reaction forces and moments are provided for each weld. This makes it easy to evaluate weld strength.
Free trial versions of Altair SimSolid Cloud can be found in the Onshape app Store. Check it out.