Welcome to the Onshape forum! Ask questions and join in the discussions about everything Onshape.
First time visiting? Here are some places to start:
Looking for a certain topic? Check out the categories filter or use Search (upper right).
Need support? Ask a question to our Community Support category.
Please submit support tickets for bugs but you can request improvements in the Product Feedback category.
Be respectful, on topic and if you see a problem, Flag it.
If you would like to contact our Community Manager personally, feel free to send a private message or an email.

Replace instance of assembly via API
Alexander_Dullnig
Member
Posts: 5
✭
HI,
I want to replace an assembly by another via the API.
I am using the following endpoint:
/api/elements/d/:did/w/:wid/e/:eid/updatereferences


My Url looks like 
https://techsoft.onshape.com/api/elements/d/8892178092f880cf9ddecead/w/f0ee80e9697d6f6ccdc61a13/e/0a31fca43985c592ec352c69/updatereferences
And the request body: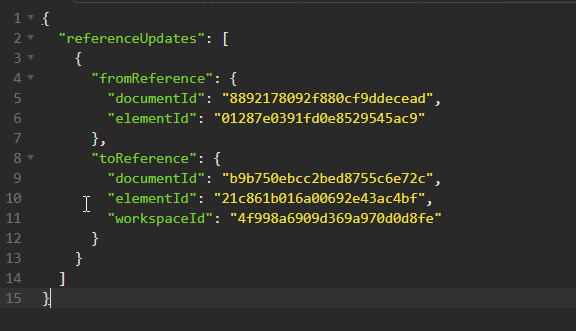 But every try leads to this error:
This message doesn't say anything relevant and I don't know what I am doing wrong.
Am I missing something?