Welcome to the Onshape forum! Ask questions and join in the discussions about everything Onshape.
First time visiting? Here are some places to start:
Looking for a certain topic? Check out the categories filter or use Search (upper right).
Need support? Ask a question to our Community Support category.
Please submit support tickets for bugs but you can request improvements in the Product Feedback category.
Be respectful, on topic and if you see a problem, Flag it.
If you would like to contact our Community Manager personally, feel free to send a private message or an email.

NEW EXTENSION - Reference finder for Onshape: instantly find tasks, communication, and documentation
alnis
Member, Developers
Posts: 446
EDU
With this extension, you can
easily and automatically find
all of the
Trello
cards,
Slack
messages,
Confluence
pages,
Jira
tickets, and
Google Drive
files that mention an Onshape document!
FAQ
What is a mention/reference?
A link to an Onshape document like 
https://cad.onshape.com/documents/6eb1d47ad2b5b4b375c60fae/w/ea628258f7d101b3908e2cdb/e/46f26314ed97b202b6e45902
How does it work?
It searches for the Onshape document ID using the external service's search API and reports back the results with some nice formatting. That's it!
I'd like it to connect with XYZ. How do I request that?
 More platforms will be added in the future. Info about submitting requests for more platforms is available on the website:
https://referencefinder.net/
Sounds neat. How do I get it?
 Get it for free on the Onshape App Store: 
https://appstore.onshape.com/apps/Utilities/WXAYLRR4VZ6D37JNW77RZE6JQ4UOJZ46PBMQ7BQ=/description
How do I set it up and use it?
Check out the tutorial: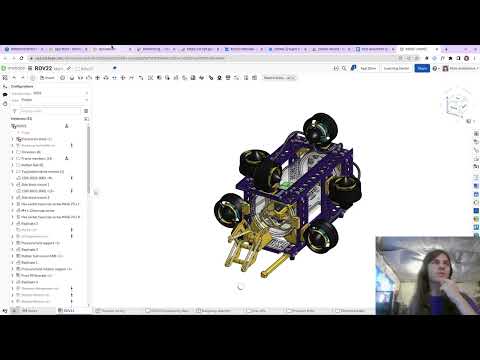 https://youtu.be/iKx93WH0buA
Problems
**THIS IS NOT AN OFFICIAL ONSHAPE FEATURE, SO PLEASE DO NOT CONTACT ONSHAPE SUPPORT FOR HELP**
==> Instead, you can email me at
[email protected]
with any questions, feedback, feature ideas, etc. 
Known issues:
Confluence and Jira require you to put the document ID by itself like 6eb1d47ad2b5b4b375c60fae. Their search APIs don't find subsections of URLs.
Google Drive needs links to be pasted right in the text. Having a link like this won't work.
Slack needs an admin to add the app to your Slack workspace before regular members can add it.
Trello sometimes takes a few minutes for results to be indexed. If you don't see a reference showing up, wait 5 minutes before emailing me.
Demo