Welcome to the Onshape forum! Ask questions and join in the discussions about everything Onshape.
First time visiting? Here are some places to start:
Looking for a certain topic? Check out the categories filter or use Search (upper right).
Need support? Ask a question to our Community Support category.
Please submit support tickets for bugs but you can request improvements in the Product Feedback category.
Be respectful, on topic and if you see a problem, Flag it.
If you would like to contact our Community Manager personally, feel free to send a private message or an email.

Fusion 360 news - Autodesk has announced major changes and removals to tools in the free version
alnis_smidchens
Member
Posts: 279
EDU
Not a post about Onshape, but I figured it's relevant. Here's what Autodesk is changing & removing for Fusion 360's free version:
You can only have 10 editable documents ("non-archived"), all others must be switched to archived and not editable. Documents can be swapped between archived/unarchived. "Documents" include drawings, electronics schematics, etc., so each of those counts towards the document limit
Drawings are now limited to one sheet, no templates can be used, and exporting to PDF, DXF, and DWG is disabled (it's only possible to print now)
Models can now be exported to only: F3D, F3Z, FBX, IPT, IAM, OBJ, SKP, SMT, SDP, STL, sketches to DXF (note absence of STEP, IGES, and Parasolid)
Many CAM tools have been removed, including multi-axis milling, probing, automatic tool changes, and the rapid feed ability
Simulation - completely gone
Generative design - completely gone
Cloud rendering - completely gone
You can't use the cloud environments even if you purchase cloud credits
Local rendering remains
No add-ons, extensions, integrations, etc. can be used at all
October 1st, 2020 - almost all of these changes will take effect automatically, no reinstall needed. Deadline to export existing documents.
January 19th, 2021 - 10 document limit goes into effect
Other limitations from before the announcement will continue, including only basic collaboration tools and limits to the complexity of electronics designs. Note that education, startup, and professional licenses are not affected. They are also running a 40% discount on the subscription price for a commitment of up to 3 years.
Autodesk blog post: 
https://www.autodesk.com/products/fusion-360/blog/changes-to-fusion-360-for-personal-use/
TFI video about it: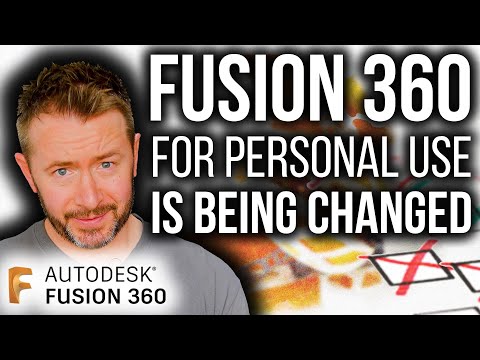 Summary chart:
I'm sure glad I'm not a Fusion 360 user! What are your thoughts on this?
Tagged: