Welcome to the Onshape forum! Ask questions and join in the discussions about everything Onshape.
First time visiting? Here are some places to start:
Looking for a certain topic? Check out the categories filter or use Search (upper right).
Need support? Ask a question to our Community Support category.
Please submit support tickets for bugs but you can request improvements in the Product Feedback category.
Be respectful, on topic and if you see a problem, Flag it.
If you would like to contact our Community Manager personally, feel free to send a private message or an email.

Beams or Weldment profiles workflow
emagdalenaC2i
Member, Developers
Posts: 638
✭✭✭✭✭
I would like to share with you the workflow in which we are working to provide the best tools to our Onshape customers in Spain.
We have translated, improved, modified and created several FeatureScripts to improve the workflow in Onshape:
1- Generador de Perfiles
Improved profile generator
based on the FeatureScript Beam generator by Neil Cooke
.
Allows to create more easily the profile tables to be used by the Perfiles (Beams) FeatureScript.
It also allow to set several attributes to specific profiles, profile types and/or profile standards. So:
- You could automatically assign a material as an Attribute in the Profiles.
- Or you could automatically assign the name, description or part number to the beams created based on the information contained in the attributes of that profiles.
Also 
We have developed a library with more than 3.100 profiles for our customers.2- Perfiles
Improved beam generator
based on the FeatureScript Beams by Neil Cooke.
Allows to create more easily the beams
using groups
. Each group of profiles can be located independently with their manipulators and the resulting beams of each group are trimmed by the beams of the previous groups.
It also allow to set the material, weight, appearance and other properties (name, description, length, part number) based on the information provided by the beam profiles as attributes.
So to create a complete structure like the one in the lower image, you only need to run the FeatureScript once.
3- Recortar Perfiles
This FeatureScript allos to trim several Beams (or other parts) with several planes or planar faces.
4- Perfiles de Aluminio
This FeatureScript allow to:
- Create standard machining types for aluminum profiles
- move faces (mainly to locate the covers for the profiles)
- Create panels inside the structures with all its components
- and create mate connectors to to se  the assemblies easily.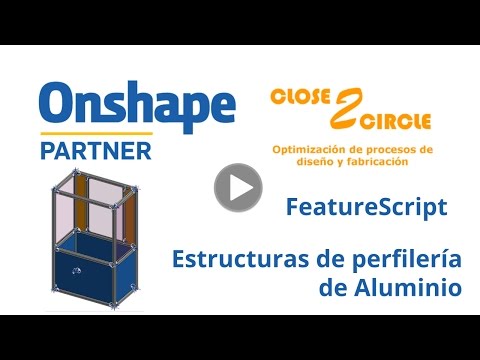 We also provide a library with standard and comercial componentes
We can not share these FeatureScripts and libraries but We would like to get your feedback about this workflow.
@NeilCooke
I hope you like the changes we made from your FeatureScripts. If you want to know better how they work, we make a presentation of Onshape in Spanish every two weeks
http://c2i.es/event