Welcome to the Onshape forum! Ask questions and join in the discussions about everything Onshape.
First time visiting? Here are some places to start:
Looking for a certain topic? Check out the categories filter or use Search (upper right).
Need support? Ask a question to our Community Support category.
Please submit support tickets for bugs but you can request improvements in the Product Feedback category.
Be respectful, on topic and if you see a problem, Flag it.
If you would like to contact our Community Manager personally, feel free to send a private message or an email.

Replicating Offset behavior in FeatureScript
tdesve
Member
Posts: 2
✭
I'm am developing a feature allowing me to automate the creation of a spline representing the profile of a slice of a boat hull. Is there a way to programmatically offset the spline as we can do it in a Sketch ? This should allow to give some thickness to the profile.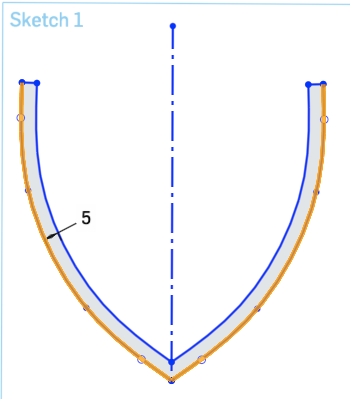 At the time, I haven't been able to find a suitable function to do this in my FeatureScript. Any though that may help me to make progress ?
Here is the link to the document : 
https://sso.onshape.com/documents/6c2a8aba1a00e05700132269/w/4ad56285d0fe861a0dd826c1/e/bbdc8ee49ee3bb515014ec86
Thanks,
Thierry
Tagged: