Welcome to the Onshape forum! Ask questions and join in the discussions about everything Onshape.
First time visiting? Here are some places to start:
Looking for a certain topic? Check out the categories filter or use Search (upper right).
Need support? Ask a question to our Community Support category.
Please submit support tickets for bugs but you can request improvements in the Product Feedback category.
Be respectful, on topic and if you see a problem, Flag it.
If you would like to contact our Community Manager personally, feel free to send a private message or an email.

New Video: The Featurescript skill every serious Onshape user should have
Evan_Reese
Member
Posts: 2,034
PRO
Hi all, I finally got around to recording a video showing how to use Featurescript to make global-ish variables, and then riffing on that concept. The goal here is to help non-code people use a powerful workflow for making your designs super updatable, and also to trick them into learning some Featurescript along the way. It's pretty long, but if you're here on the forums at the end of a Monday, maybe you're just into this stuff like I am.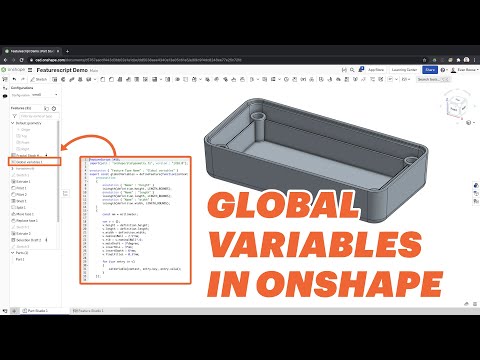 https://youtu.be/uB43P7LqkHw
Evan Reese / Principal and Industrial Designer with Ovyl
Website: ovyl.io