Welcome to the Onshape forum! Ask questions and join in the discussions about everything Onshape.
First time visiting? Here are some places to start:
Looking for a certain topic? Check out the categories filter or use Search (upper right).
Need support? Ask a question to our Community Support category.
Please submit support tickets for bugs but you can request improvements in the Product Feedback category.
Be respectful, on topic and if you see a problem, Flag it.
If you would like to contact our Community Manager personally, feel free to send a private message or an email.

Image (New Custom Feature!)
MichaelPascoe
Member
Posts: 1,553
PRO
https://cad.onshape.com/documents/f7a45d78c374497d37c1d2cb/w/04c6c220e40120d79db4c05e/e/161ce64bb947e34f19588b33?renderMode=0&uiState=63ffb066af4a881b3447d2c9
Image allows you to:
Quickly place images in the part studio without having to sketch
Reference geometry for the image size
Change the transparency of the image
Special thanks to @billy2 at rustyshed.com for collabing this with me. He is responsible for:

Rotate
X & Y Center %
Aspect ratio
Image height & width
If you use Onshape for work, consider saving hours of work by automating your process with custom features and API.
CADSharp
 specializes in custom features and API.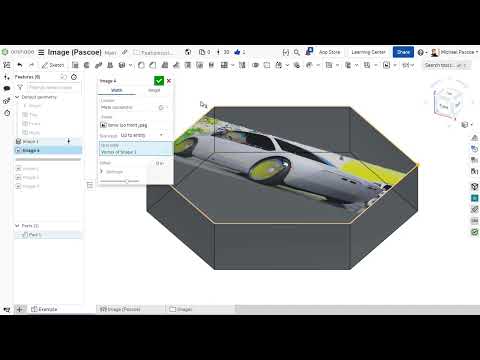 https://www.youtube.com/watch?v=r7ZsW2ZYoaY