Welcome to the Onshape forum! Ask questions and join in the discussions about everything Onshape.
First time visiting? Here are some places to start:
Looking for a certain topic? Check out the categories filter or use Search (upper right).
Need support? Ask a question to our Community Support category.
Please submit support tickets for bugs but you can request improvements in the Product Feedback category.
Be respectful, on topic and if you see a problem, Flag it.
If you would like to contact our Community Manager personally, feel free to send a private message or an email.

Laser Measure (New Custom Feature!) 🆕
MichaelPascoe
Member
Posts: 1,552
PRO
https://cad.onshape.com/documents/11b3c35c86c54ad322793270/w/912fd62e61faa3b3e8c9412e/...
Laser Measure allows you to:
Measure a distance based on a direction.
Find distances to unkown entities. (Example: last entity in a pattern)
Save measure line as a curve for downstream references.
Create a variable of the measured distance.
Do you spend hours a day in Onshape? Consider automating your process with custom features and API.
CADSharp
 specializes in custom features and API.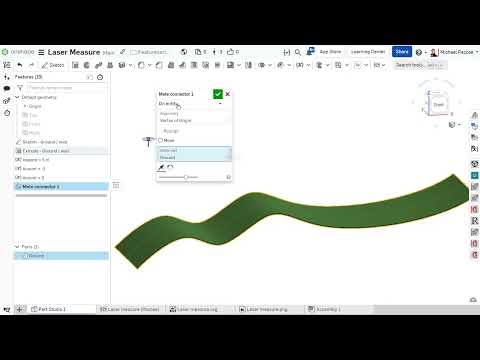 https://www.youtube.com/watch?v=OoV_s16p5-A