Welcome to the Onshape forum! Ask questions and join in the discussions about everything Onshape.
First time visiting? Here are some places to start:
Looking for a certain topic? Check out the categories filter or use Search (upper right).
Need support? Ask a question to our Community Support category.
Please submit support tickets for bugs but you can request improvements in the Product Feedback category.
Be respectful, on topic and if you see a problem, Flag it.
If you would like to contact our Community Manager personally, feel free to send a private message or an email.

Video Tutorial: Drive checkboxes and text with expressions
Evan_Reese
Member
Posts: 1,981
PRO
Hey everyone! I loved the new options for driving checkboxes and sketch text, so I did a bunch of experiments, and learned a ton. I figured I'd just go ahead and wrap all of that into a video, which I just posted. It's very powerful, but there are some tricky things about it too (especially if you're not used to code/featurescript). I lay it all out in what I hope is a simple enough way for people who aren't comfortable with code yet.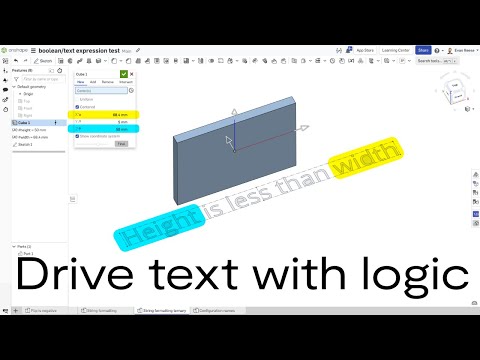 https://youtu.be/6HoMM2A3fm4
Evan Reese / Principal and Industrial Designer with Ovyl
Website: ovyl.io