Welcome to the Onshape forum! Ask questions and join in the discussions about everything Onshape.
First time visiting? Here are some places to start:
Looking for a certain topic? Check out the categories filter or use Search (upper right).
Need support? Ask a question to our Community Support category.
Please submit support tickets for bugs but you can request improvements in the Product Feedback category.
Be respectful, on topic and if you see a problem, Flag it.
If you would like to contact our Community Manager personally, feel free to send a private message or an email.

New FeatureScript: Thread Creator
dave_cowden
Member, Developers
Posts: 452
✭✭✭
Hi, everyone:
It has been a while, but I've been busily working on a new feature for everyone to try.  
I'm proud to release  ThreadCreator Version 1.0, featuring:
Thread Types: ANSI, ISO, ACME, Square, and DIN 103 ( ISO Trapezoidal)
Internal and External Threads
Multi-start threads for lead screws
Left/Right handed threads
Thread lead-in to simulate threads created by taps and dies
Optional, configurable thread start taper
Configurable threaded length, lead-in
Intelligent feature naming ( tries to guess a 'nicely formatted' name for your thread )
To create threads, simply provide a cylindrical face that represents the Major Diameter: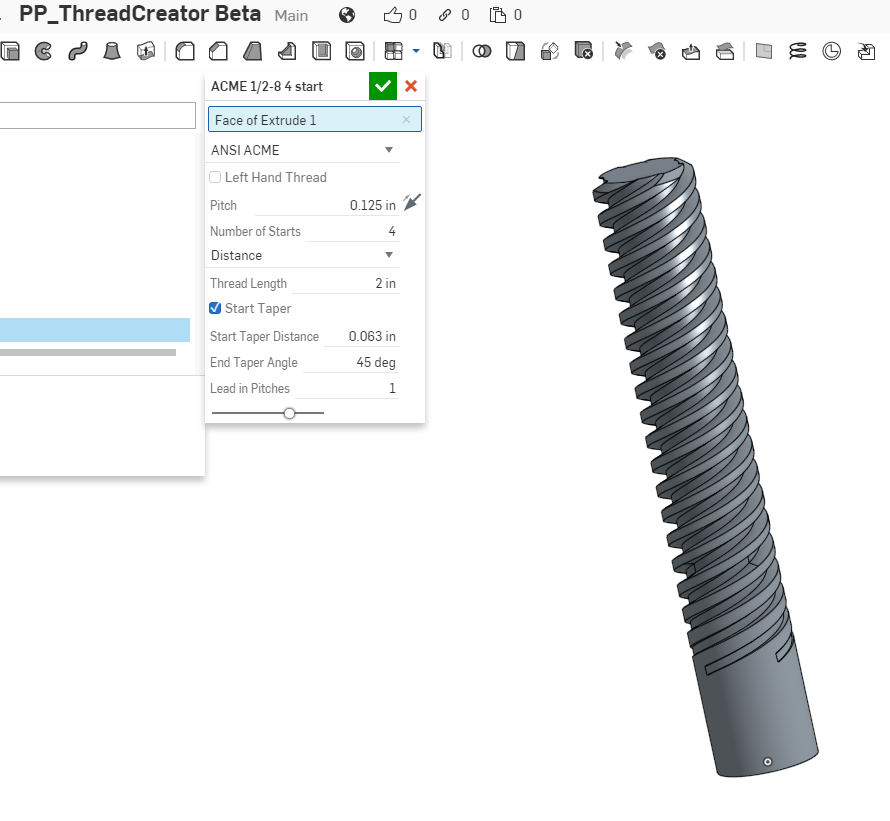 You can find the document here
https://cad.onshape.com/documents/6b640a407d78066bd5e41c7a/w/4693805578a72f40ebfb4ea3/e/7886aa5aee640497f4eb6265
And as always you can find our other features on the store at
http://store.parametricparts.com
Enjoy!