Welcome to the Onshape forum! Ask questions and join in the discussions about everything Onshape.
First time visiting? Here are some places to start:
Looking for a certain topic? Check out the categories filter or use Search (upper right).
Need support? Ask a question to our Community Support category.
Please submit support tickets for bugs but you can request improvements in the Product Feedback category.
Be respectful, on topic and if you see a problem, Flag it.
If you would like to contact our Community Manager personally, feel free to send a private message or an email.

Improvements to Onshape - September 11th, 2019
Roy_Mutalik
Member, Onshape Employees
Posts: 26

Our first release of September comes with some highly-requested drawings improvements. Let's take a look. 
CAD IMPROVEMENTS
HOLE TABLES
You can now create Hole Tables to show on your drawings!
REPLACE MODEL & DRAWING REFERENCES
With this release, you can now replace a model reference on a drawing even after views have been created.
There are many use cases for this functionality. Some include:
1. Replacing views of a Part Studio (which you had created accidentally) with the correct Part reference
2. Changing Configuration of a Part shown on a drawing
3. Replacing a Part with an Assembly
4. Duplicating a drawing, and changing the reference (for a similar part)
5. Switching all view references between a Workspace and a Revision/Version.


O-RINGS IN STANDARD CONTENT
ISO 3601-1:2012 and SAE AS568D O-rings have now been added to the Standard Content Library.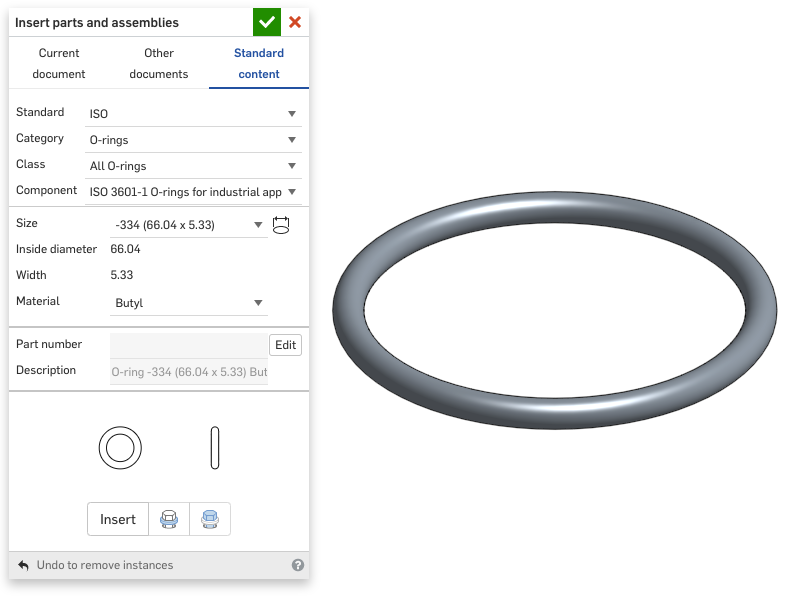 CHANGE UNITS OF MESH DATA
You can now dynamically change the units of imported Mesh data. The changes automatically update, resizing the mesh in the Part Studio where it was imported.
SKETCH SELECTION AS REFERENCE FOR HOLE FEATURE
A few releases back, we introduced the ability to select an entire sketch as a reference for a Hole feature. The Hole feature parametrically updates if vertices are added or removed from that sketch.
After receiving feedback from many users, especially on the forum (thank you!), we have made some additional improvements. Most notably, certain points from the sketch will no longer be automatically included in the selection. These points include:
The center point of a center-point rectangle
The three points used to define a three-point circle
The edge point created by the inscribed polygon
The center point of a circular pattern
Note that any of these points can still be used as a reference location for a hole if selected manually in the Hole feature.
We would like to take a moment to continue to thank our active and vocal users for providing us with valuable feedback. We'll promise to always listen, and make Onshape great together!
STANDARD CONTENT APPENDIX
A
Standard Content Appendix
has been created in the Help Documentation. The Help is searchable, so you will be able to find the appropriate hardware easily without having to dig through the Standard Content Library from the "Insert" feature in-app.
DRAWING TABLE PERFORMANCE
You should expect to see improved performance and responsiveness when dragging, snapping, and generally navigating tables on Onshape Drawings (General Tables and Bill of Materials).
RESET PROPERTIES

In a Part Studio, the properties dialog now has a "Reset all" button which will clear all editable part properties of the selected parts. This does more than it appears at first: As the tooltip indicates, it will also reset some properties you can't see in the dialog (appearance, material, tessellation quality), and, unlike just clearing out the fields manually, it fully clears all manual applications. This allows values calculated by custom features (which are normally overridden by those manual applications) to take effect.
PROFESSIONAL IMPROVEMENTS
CLONE A RELEASE CANDIDATE
You can now create a new Release Candidate by directly copying a previously created one. All elements (tabs), as well as the comment history is copied to the newly created Release Candidate.
TEN-DIGIT PART NUMBERS
You may now enforce a minimum Part Number length of up to 10 digits.  
ENTERPRISE IMPROVEMENTS
SSO USING AZURE AD AND ADFS
Onshape Enterprise's Single-Sign-On (SSO) now supports the use of Microsoft Azure Active Directory (AAD) and Active Directory Federation Services (ADFS).




FEATURESCRIPT IMPROVEMENTS
EXTERNAL REFERENCE UPDATE DIALOG
Feature Studios will now show an external reference update icon (similar to those shown in the feature tree) and include a similar update dialog for managing versions of external references.


LEARNING CENTER IMPROVEMENTS
TECH BRIEFING - MANAGING AND USING ONSHAPE ITEMS
A new Tech Briefing has been published on how to manage items as a company admin, and add items to your BOMs as a company member. 
Please take a moment to try out these new features and improvements and leave your comments below. For a detailed list of all the changes in this update, please see the changelog.
Remember: The updates listed here are now live for all users when creating new Documents and over the next few days these features will also be available in Documents created before the date of this update.