Welcome to the Onshape forum! Ask questions and join in the discussions about everything Onshape.
First time visiting? Here are some places to start:
Looking for a certain topic? Check out the categories filter or use Search (upper right).
Need support? Ask a question to our Community Support category.
Please submit support tickets for bugs but you can request improvements in the Product Feedback category.
Be respectful, on topic and if you see a problem, Flag it.
If you would like to contact our Community Manager personally, feel free to send a private message or an email.

setFeatureComputedParameter() Generates error, but the broken code is the only code executing...
john_mcclary
Member, Developers
Posts: 3,860
PRO
https://cad.onshape.com/documents/ad3a9824a02b9066da33b369/w/bb566cc2750ad4ccc29f90ce/e/4ed605af55a5d19fd46cfaec
So I am trying to create a selectable Sheet metal table that creates a variable that can be pushed to the sheet-metal base feature.
Everything works, but I wanted to go step further and have the selected size set to the feature name in long form (same name that shows in the enum)
It actually works how I want as you can see:
But it breaks the rest of the code...
If I comment out setFeatureComputerParameter() then it works except the name of the feature is "_7"... which doesn't do anyone any favors.
I really am trying to use the value I already have stored in the enum, rather than doing a for loop and checking which one was selected, and manually outputting a string that says "7 Gauge (.1793)".
Is the syntax for reading the enum's "Name" parameter incorrect?
I tried it definition.SMSize["Name"] but it does the exact same thing.
One would think it would be correct, seeings how it is returning the correct string and setting it to the feature name...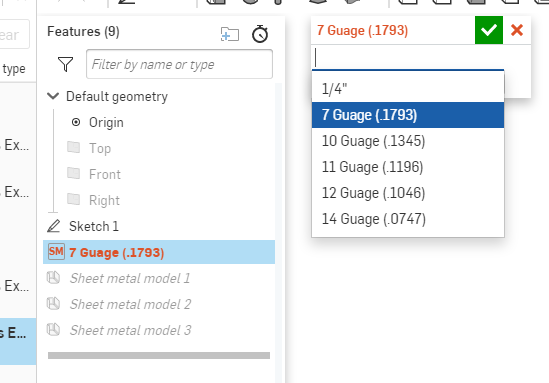 After Commenting out setFeature....
FeatureScript 1053;<div>import(path : "onshape/std/geometry.fs", version : "1053.0");</div><div><br></div><div>export enum SM</div><div>{</div><div>&nbsp; &nbsp; annotation {"Name" : "1/4\""}</div><div>&nbsp; &nbsp; _25,</div><div>&nbsp; &nbsp; annotation {"Name" : "7 Guage&nbsp; (.1793)"}</div><div>&nbsp; &nbsp; _7,</div><div>&nbsp; &nbsp; annotation {"Name" : "10 Guage (.1345)"}</div><div>&nbsp; &nbsp; _10,</div><div>&nbsp; &nbsp; annotation {"Name" : "11 Guage (.1196)"}</div><div>&nbsp; &nbsp; _11,</div><div>&nbsp; &nbsp; annotation {"Name" : "12 Guage (.1046)"}</div><div>&nbsp; &nbsp; _12,</div><div>&nbsp; &nbsp; annotation {"Name" : "14 Guage (.0747)"}</div><div>&nbsp; &nbsp; _14</div><div>}</div><div><br></div><div>export const SM_Table =</div><div>{&nbsp;</div><div>&nbsp; &nbsp; "_25" : { Size : .25, Bend : .262 }, // .25"</div><div>&nbsp; &nbsp; "_7" : { Size : .1793, Bend : .262 }, // 7 gauge</div><div>&nbsp; &nbsp; "_10" : { Size : .1345, Bend : .164 }, // 10 gauge</div><div>&nbsp; &nbsp; "_11" : { Size : .1196, Bend : .164 }, // 11 gauge</div><div>&nbsp; &nbsp; "_12" : { Size : .1046, Bend : .164 }, // 12 gauge</div><div>&nbsp; &nbsp; "_14" : { Size : .0747, Bend : .079 }&nbsp; // 14 gauge</div><div>};</div><div><br></div><div>&nbsp; &nbsp;&nbsp;</div><div>annotation { "Feature Type Name" : "Sheet Metal Selection", "Feature Name Template" : "#SMSize" }</div><div>export const SM_Select = defineFeature(function(context is Context, id is Id, definition is map)</div><div>&nbsp; &nbsp; precondition</div><div>&nbsp; &nbsp; {</div><div>&nbsp; &nbsp; &nbsp; &nbsp; annotation { "Name" : "Size" }</div><div>&nbsp; &nbsp; &nbsp; &nbsp; definition.SMSize is SM;</div><div>&nbsp; &nbsp; }</div><div>&nbsp; &nbsp; {</div><div>&nbsp; &nbsp; &nbsp; &nbsp; const Size = toString(definition.SMSize);</div><div>&nbsp; &nbsp; &nbsp; &nbsp; setVariable(context, "thickness", SM_Table[Size].Size);</div><div>&nbsp; &nbsp; &nbsp; &nbsp; setVariable(context, "bendRadius", SM_Table[Size].Bend);</div><div>&nbsp; &nbsp; &nbsp; &nbsp;&nbsp;</div><div>&nbsp; &nbsp; &nbsp; &nbsp; setFeatureComputedParameter(context, id, {</div><div>&nbsp; &nbsp; &nbsp; &nbsp; &nbsp; &nbsp; &nbsp; &nbsp; "name" : "SMSize",</div><div>&nbsp; &nbsp; &nbsp; &nbsp; &nbsp; &nbsp; &nbsp; &nbsp; "value" : definition.SMSize.Name&nbsp; &nbsp;// ERROR HERE ?</div><div>&nbsp; &nbsp; &nbsp; &nbsp; });</div>&nbsp; &nbsp; });