Welcome to the Onshape forum! Ask questions and join in the discussions about everything Onshape.
First time visiting? Here are some places to start:
Looking for a certain topic? Check out the categories filter or use Search (upper right).
Need support? Ask a question to our Community Support category.
Please submit support tickets for bugs but you can request improvements in the Product Feedback category.
Be respectful, on topic and if you see a problem, Flag it.
If you would like to contact our Community Manager personally, feel free to send a private message or an email.

Innovator's Insider Podcast
richard_doyle
Member, User Group Leader
Posts: 221
✭✭✭
Hi Everyone,
Michael Lafleche and I have started a podcast that we hope you will enjoy. We'll be talking about the latest news in product development, we'll have customer stories and interviews, deep-dives into Onshape releases, user group news, and more.
Check out this blog post by Rachel Valerio and watch the trailer -
https://www.onshape.com/en/resource-center/innovation-blog/onshape-presents-the-innovators-insider-podcast
The first episode has also posted where we share a bit of our histories and how we ended up at Onshape. You can watch the video version on YouTube here -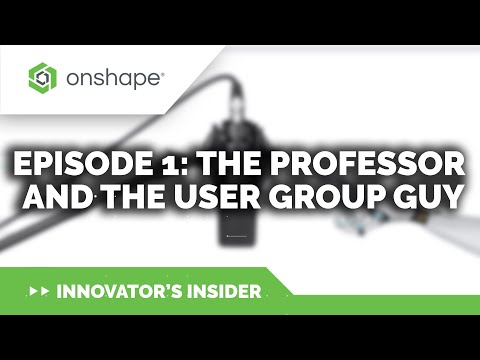 Audio versions are available in the usually places - Spotify, Apple, etc.
We hope you will enjoy the podcast and leave us comments on what you would like to hear. You can also email us your thoughts at
[email protected]
Thanks in advance for watching/listening, and please like and subscribe.
Richard