Welcome to the Onshape forum! Ask questions and join in the discussions about everything Onshape.
First time visiting? Here are some places to start:
Looking for a certain topic? Check out the categories filter or use Search (upper right).
Need support? Ask a question to our Community Support category.
Please submit support tickets for bugs but you can request improvements in the Product Feedback category.
Be respectful, on topic and if you see a problem, Flag it.
If you would like to contact our Community Manager personally, feel free to send a private message or an email.

New Custom Feature: Wire
Evan_Reese
Member
Posts: 1,769
PRO
Hi all, I've been sitting on this one for a bit, but decided to go ahead and make it public today. The feature takes a chain of curves and sweeps a round profile on them. You can size the wires based on the American Wire Gauge or a custom value. You can set the wire color in the feature. It also creates a custom table of all wire lengths, which could be helpful as a cut-list. Let me know if you end up using it!
Here's a link to the feature: 
https://cad.onshape.com/documents/d7646aa1f428392f60bfd0f0/v/0a9cf8917ac1dd5cbab9520b/e/570256b830ffc6c8d2f48aa7
Here's a video tour of the feature: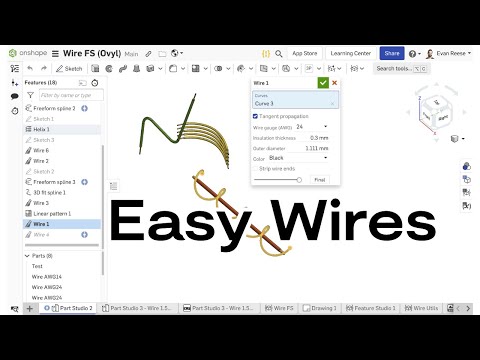 https://youtu.be/FjAdlQN9ymA
Evan Reese / Principal and Industrial Designer with Ovyl
Website: ovyl.io