Welcome to the Onshape forum! Ask questions and join in the discussions about everything Onshape.
First time visiting? Here are some places to start:
Looking for a certain topic? Check out the categories filter or use Search (upper right).
Need support? Ask a question to our Community Support category.
Please submit support tickets for bugs but you can request improvements in the Product Feedback category.
Be respectful, on topic and if you see a problem, Flag it.
If you would like to contact our Community Manager personally, feel free to send a private message or an email.

Profiles library - beams
grzegorz_kondracki
Member, Developers
Posts: 23
PRO
Hi,
To use the library of European steel profiles.
We are very happy with the fearutescripts beams - very good job.
We do a lot of frame, boom etc.
For example - boom
There are many different profiles in the library - sometimes all.
For example: beam INP, IPE, HEA, HEB, HEA, etc.
Various types of pipes and rods.
link onshape:
https://cad.onshape.com/documents/58d12b42203be30fcd005b4f/w/d8c0bef6f26d5604b06881b2/e/5fa60f80861479ec429cef9c
link Youtube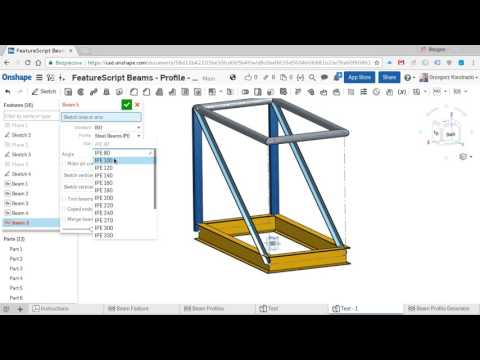 We will expand the library as we have free time and need to use the following profiles.
Profiles according to other regulations we can introduce but we need profile drawings and someone later has to check it and we are not running eg in inches.

Grzegorz (Greg) Kondracki