Welcome to the Onshape forum! Ask questions and join in the discussions about everything Onshape.
First time visiting? Here are some places to start:
Looking for a certain topic? Check out the categories filter or use Search (upper right).
Need support? Ask a question to our Community Support category.
Please submit support tickets for bugs but you can request improvements in the Product Feedback category.
Be respectful, on topic and if you see a problem, Flag it.
If you would like to contact our Community Manager personally, feel free to send a private message or an email.

Hole Wizard, but allows for variable input rather than pull down menu
john_mcclary
Member, Developers
Posts: 3,860
PRO
So I have always had to manually open every part and set the tap size per-feature when scaling a chute up/down or changing it from metric to standard bolts.
There always seems to be one tap hole I miss, or accidentally make fine thread.
When you only have 2 or 3 bolt sizes throughout a design, it would be nice to set some "common sizes" as variables and derive those variables into other part studios.
This is easy with clearance holes, but tapped holes that update on the drawing requires searching every part studio and playing with drop down menus.
I've been wanting this for a long time, now I think I finialy got it.
to do it, I made a hole and select all of the parameters
now view the code of the tab and find your hole specifications
Copy the hole.fs from the standard library source
now mess with the precondition to allow an isAnything(); input that will take our variable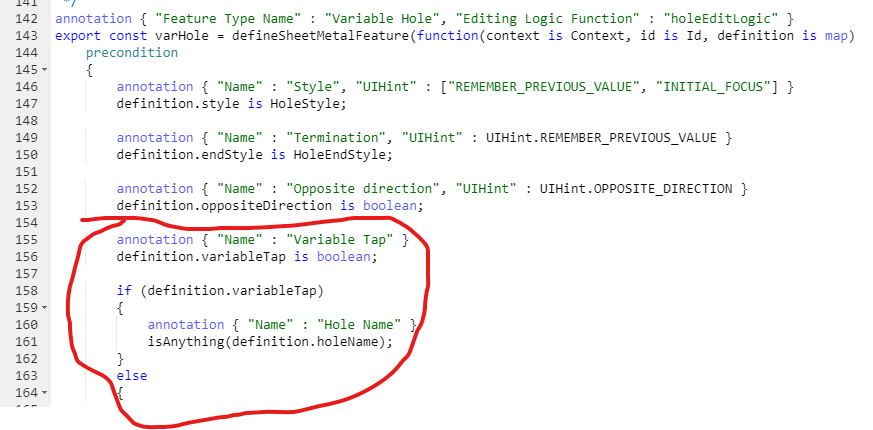 Then, for each hole type, create an 'if else' statement at the beginning of the feature body
paste in the source from the partstudio tab and re-factor it like so:
at the end you may want to throw in a regenError in case the if condition is not met
Now you can standardize bolt sizes throughout an entire design by setting it in one place!
I'm sure someone way smarter than me in FS can find a way to use a lookuptable or import a bolt library from a .csv but I've already got all the fasteners I need for most projects already.
Let me know if there is a way to handle that.
Enjoy