Welcome to the Onshape forum! Ask questions and join in the discussions about everything Onshape.
First time visiting? Here are some places to start:
Looking for a certain topic? Check out the categories filter or use Search (upper right).
Need support? Ask a question to our Community Support category.
Please submit support tickets for bugs but you can request improvements in the Product Feedback category.
Be respectful, on topic and if you see a problem, Flag it.
If you would like to contact our Community Manager personally, feel free to send a private message or an email.

Improvement requests category has launched - Voting open
lougallo
Member, Moderator, Onshape Employees, Developers
Posts: 1,940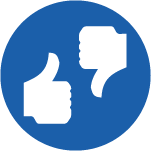 Today we are launching a way for you to request improvements and allow the rest of the community to vote on them. The goal of this was to keep the conversation here in the forums but allow improvements to be added into our support workflow so we can continue to notify those of you who have raised a hand for a similar request.  To do this we are using the same tool we use for our support tickets which has a nice integration for voting.
In some cases you might not want to post an improvement publicly, you can continue to send in your improvements with the ? menu in Onshape -> Feedback.  Here is a brief summary:
Search for existing improvements using Search in the Improvements category
Vote on existing by clicking on the improvement and clicking the Vote link at the bottom.
Submit new improvements by clicking on the New improvement button.
Once submitted, Onshape will review and generate a ticket for it which will cross post it here in the Improvement requests category.
Discussions around the posted improvements or voting on the improvement will notify you when we ship the request, avoiding the +1 storm ;-)
More details about the process here:  
https://forum.onshape.com/discussion/797/submitting-improvements-please-read-first#latest
As always, let us know what you think.  If you want to be able to sort or filter by the number of votes or most recent, you can visit the Improvement engine site here:  
https://onshape.zendesk.com/hc/en-us/community/topics/200052150-Improvement-Requests
Lou Gallo / PD/UX - Support - Community / Onshape, Inc.
Tagged: