Welcome to the Onshape forum! Ask questions and join in the discussions about everything Onshape.
First time visiting? Here are some places to start:
Looking for a certain topic? Check out the categories filter or use Search (upper right).
Need support? Ask a question to our Community Support category.
Please submit support tickets for bugs but you can request improvements in the Product Feedback category.
Be respectful, on topic and if you see a problem, Flag it.
If you would like to contact our Community Manager personally, feel free to send a private message or an email.

Anyone already wrote a feature script for "slotted bending" (sheet metal)?
jonaskuehling
OS Professional
Posts: 16
PRO
Hey,
I am currently trying to write a quick feature script to transform a sheet metal bend corner into a "slotted bend" (like described nicely over at Hackaday a while back:
https://hackaday.com/2016/05/18/the-art-and-science-of-bending-sheet-metal/
). This can already be easily done manually by drawing a sketch with a slot pattern along the bend center line onto the flattened sheet metal part in order to extrude (remove) from the part, so I thought it should be pretty easy to be automated using feature script.
Now, my practice with feature script is limited so far and it would probably take me some effort to work my way through it the hard way, that's why I'd like to kindly ask if anyone already implemented something similar? Or at least would find a feature like that useful as well and would be interested in joining me to write the script together? After all I wouldn't want to reinvent the wheel if it was already done before 
I assume the feature wouldn't need much more of an input rather than selecting the corresponding bend center line (the dashed construction line) and maybe additionally one of the tangent bend lines. From there I guess you can read out the related sheet metal part, the sheet thickness and then draw some slots along the center line according to your desired configuration. Llike illustrated in the Hackaday article linked above: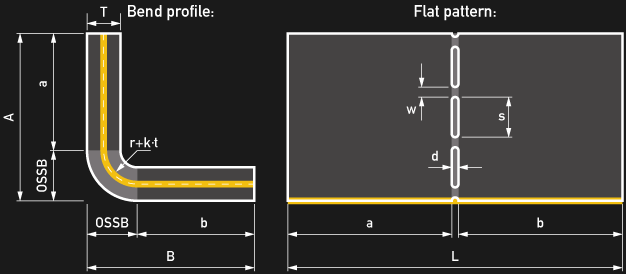 Looking forward to any help and/or interest in this
Regards,
Jonas Kühling

Tagged: