Welcome to the Onshape forum! Ask questions and join in the discussions about everything Onshape.
First time visiting? Here are some places to start:
Looking for a certain topic? Check out the categories filter or use Search (upper right).
Need support? Ask a question to our Community Support category.
Please submit support tickets for bugs but you can request improvements in the Product Feedback category.
Be respectful, on topic and if you see a problem, Flag it.
If you would like to contact our Community Manager personally, feel free to send a private message or an email.

Improvements to Onshape - September 14th, 2021
mfalkensteiner
Member, Onshape Employees
Posts: 59

We are in the middle of September and this release extends across all areas of Onshape! Let's have a look!
GENERAL IMPROVEMENTS
CREATE FOLDERS IN THE INSTANCE LIST
To get a better overview and structure in the instances list, instances can be packed into folders to hide, suppress or delete these instances collectively. Suppression of folders in assemblies can also be configured to allow quick and easy suppression of instances.
ADDING LABELS WHEN CREATING A NEW DOCUMENT
Labels can now be added directly when creating a document. As usual, you can also add or remove labels from existing documents later on.
CAD IMPROVEMENTS
REPLICATE USING A SLOT
The Replicate feature now supports the ability to replicate parts created using a "Slot".
RULED SURFACE
A new feature called Ruled Surface was added to Part Studios. The Ruled Surface Feature creates a new or additional ruled surface from an existing edge or multiple edges of a part, surface or sketch region. For more detailed information please check out the help documentation here.
DRAWING IMPROVEMENTS

CENTERMARK APPEARANCE
In the Drawing Properties fly-out menu there is now an option to customise the appearance of Centermarks. There are options for adding extended lines and for changing the line width, mark size, gap size, and color. The set values can be saved with drawing templates.
DIMENSION CONJUGATE ANGLES USING LINE TO LINE ANGULAR DIMENSION TOOL
You can now dimension the conjugate angle (360 degrees minus the measured angle) using the line to line angular dimension tool. For standard angular dimensioning, the Standard Dimension feature can still be used.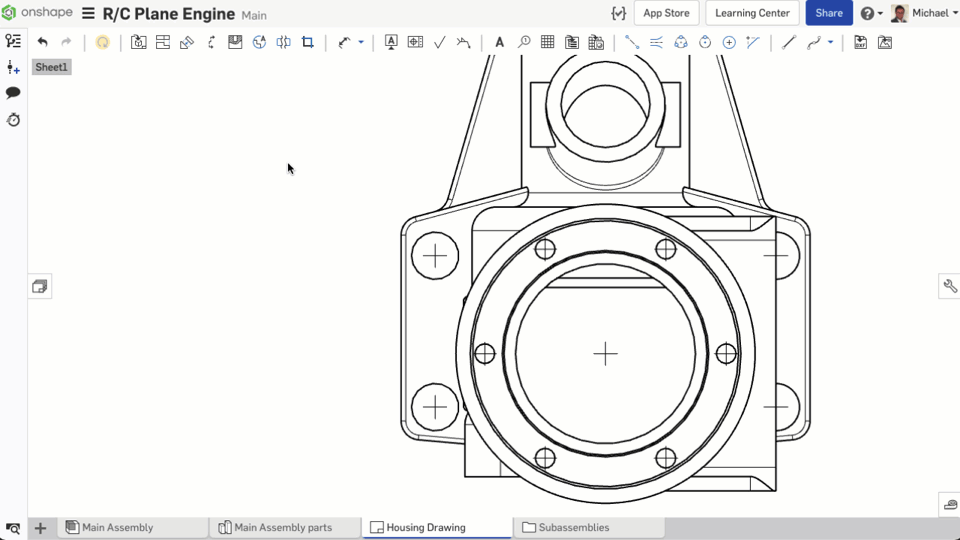 PROFESSIONAL IMPROVEMENTS
ALLOW USERS TO MANAGE ITEMS
Admins of Professional and Enterprise Accounts can now allow individual members to manage non-geometric items. This option is located in Global permissions for Enterprise admins, and Company settings > Preferences for Professional admins.
ALLOW COMPANY ADMINS TO ENABLE RE-RELEASE OPTION
Administrators can now enable an option on obsoletions to mark the obsolete revision as re-releasable. This option can correct situations where the creator of the release forgot to mark the revision as re-releasable.

ENTERPRISE IMPROVEMENTS

USER ACTIVITY AUDIT TRAIL DASHBOARD
In Analytics, you'll now find a User Activity Audit Trail report. This report shows all system level action performed by users, such as: adding new users, creating projects, and signing in.
EVENTS FOR ENTERPRISE SSO/2FA CHANGE

If you are signed in as an Enterprise Admin, you now have the option in the User Activity Audit Trail Dashboard to display the events "Enable or disable 2-Factor-Authentication policy" or "Enable or disable Single Sign On policy". So an audit trail can be generated and downloaded that shows when these security policies were activated or deactivated for your Enterprise.
PROJECT FILTER ADDED TO RELEASE DASHBOARDS
In Analytics, a new option to filter for projects has been added to the Release Management dashboards.
ADDITIONAL COPY INFORMATION FOR IP TRACKING DASHBOARD
In the Dashboard for IP Tracking you will see a new column showing if a document was copied. This can be very useful to track if and when a document has been copied and who copied it to protect intellectual property by companies.
MOBILE IMPROVEMENTS
GRID VIEW FOR IOS DEVICES
On iOS devices, there is a new "Grid View" display option in the documents list which will display the document as titles, similar to the grid view in the web browser.
LEARNING CENTER IMPROVEMENTS
NEW CLASS: TEACHING A CLASS IN ONSHAPE
This course explains tools, tips, and best practices for educators to use Onshape in the classroom.
Check out the new course here
.
Remember: The updates listed here are now live for all users when creating new Onshape Documents and over the next few days these features will also be available in Documents created before the date of this update.
Principal Technical Services Engineer, EMEAI