Welcome to the Onshape forum! Ask questions and join in the discussions about everything Onshape.
First time visiting? Here are some places to start:
Looking for a certain topic? Check out the categories filter or use Search (upper right).
Need support? Ask a question to our Community Support category.
Please submit support tickets for bugs but you can request improvements in the Product Feedback category.
Be respectful, on topic and if you see a problem, Flag it.
If you would like to contact our Community Manager personally, feel free to send a private message or an email.

Improvements to Onshape - February 18th, 2022
mfalkensteiner
Member, Onshape Employees
Posts: 59

With this update you can expect many updates in the area of drawings as well as another highlight: FRAMES!

Let's have a look!
GENERAL IMPROVEMENTS
FRAMES
Structural frames are useful for many designs across multiple industries and they can now be easily created natively in Onshape, using the Frame feature. A library of standard steel profiles are included and custom profiles to represent any material type can be easily added. Accurate cut lists make it easy to document your designs and convey the right information to manufacturing.

EXCLUDE/INCLUDE PARTS FROM SECTION VIEWS
In order to better display internal components, there is now the option to include or exclude individual components from a section view.
SHOW/HIDE EDGES CURVATURE VISUALIZATION
The curvature visualization tool now includes an option to hide or show edges. This makes it easier to analyze the transition between surfaces when curvature continuity is important. The option "show edges" is the default setting.
CONTROL THE NUMBER OF U/V CURVES
When using the Show curvature tool, it's now possible to control the number of U-curves and V-curves. 
"LOOP / CHAIN CONNECTED EDGES" ADDED FOR OPEN SURFACES
The create selection tool now includes an option to select "Loop/chain connected edges" for open surfaces. Select one of the edges of the open surface that you want to include, and all others connected edges will be added to the selection.


VARIABLE DESCRIPTIONS
Variables can now be assigned descriptions to make them easier to use and understand.
BATCH EXPORT FROM TAB MANAGER

Multiple tabs of the same type can be now exported all at once.

CUSTOMIZE CUSTOM TABLES
Columns in custom tables can now be moved and hidden to customize your view of the data.
SEARCH CUSTOM FEATURES
The Search tools button in the top right corner of a Part Studio can be used to quickly find a modeling feature even if it is not currently on your toolbar. The search feature has been extended to include a curated set of custom features that have been quality checked and maintained by Onshape. At this time, there are 6 custom features that can be searched for: Spur gear, Belt, Lighten, Point pattern, 3D Lines, and Wiring with more to be added in the future. The search results dialog will show a description, an image and a "+" button next to the feature name so you can add it to your toolbar if you wish.

DRAWING IMPROVEMENTS
COPY AND PASTE DRAWING VIEWS
Drawing views, including dimensions and other annotations, can now be copied. Select one or more views and annotations then right-click to get the new context menu option "Copy". The copied views can be pasted onto any sheet of a drawing or any other drawing in the same document. Alternatively, the key combination ctrl/cmd + c/v can be used for this process.
SHOW AND HIDE INSPECTION ITEMS
Inspection items can now be easily hidden or shown by activating the button on the toolbar.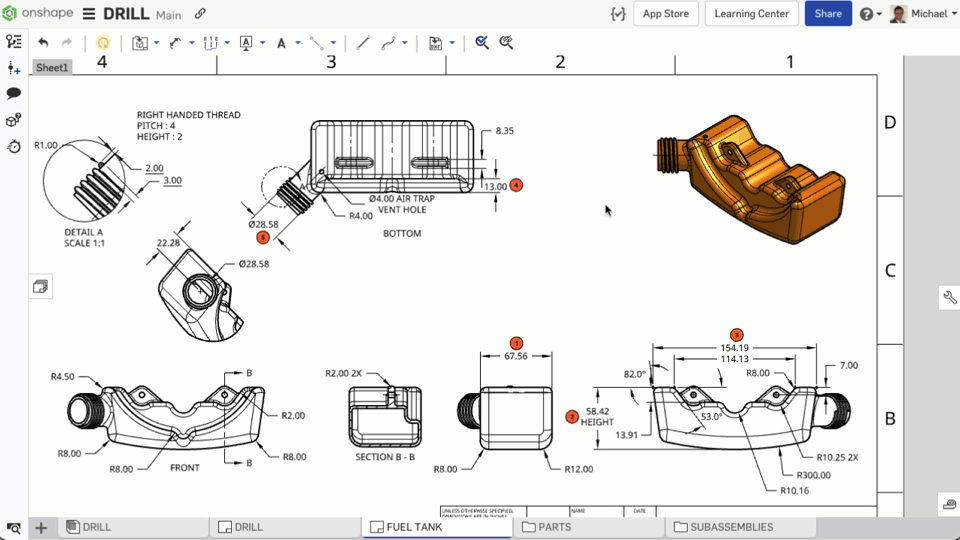 ASSIGN INSPECTION ITEMS TO TITLE BLOCK FIELDS
With this update, inspection items can also be assigned to fields of the title block, even if they are locked.
ISO ORDINATE DIMENSION STYLE
In the drawing properties panel, under the dimensions tab, there is a new sub group named "Ordinate dimensions". Here you will find a dropdown menu where you can change the dimension style from ANSI to ISO. All legacy drawings will be set to the ANSI option, but can easily be switched to ISO. All existing ordinate dimensions on the drawing will change to the selected style and any new ordinate dimensions will also follow this new style choice. In addition, this setting can be stored in drawing templates.
AUXILIARY VIEW DIRECTION ARROW AND VIEW LABEL
When creating an auxiliary view, a name is now also assigned, which is displayed as a view label on the drawing. Arrows pointing to the view plane are also displayed by default, but can optionally be hidden.
ENTERPRISE IMPROVEMENTS
"LAST SIGNED IN" ADDED TO THE USERS LIST

A new sortable column called "Last signed in" has been added to the users list in Onshape Enterprise. This allows you to easily see which users have not signed in to the enterprise for a period of time
.


FEATURESCRIPT IMPROVEMENTS
APPROXIMATE SURFACES AS B-SPLINES

Given a query for a face, FeatureScript can now return its approximation as a B-spline surface, including trim boundaries. The returned representation includes a surface, the boundary loop as 2D splines in UV space, and any interior loops. More information can be found in the FeatureScript Library.


MOBILE IMPROVEMENTS
COPY AND PASTE PARTS AND SUBASSEMBLIES
On iOS devices, parts and subassemblies can now be copied and pasted into any assembly tab of the document. In the 3 dot menu of the instance list there is now the option to copy. If objects are selected in the graphics area, the copy command is also found in the context menu.
RENDER STUDIO IMPROVEMENTS
The following Render Studio improvements will be available in the coming days.
ZOOM TO WINDOW
The keyboard shortcut W can now be used to zoom to window to quickly zoom to an area of interest.
DELETE SCENE CONFIRMATION DIALOG
An additional confirmation dialog has been added to the delete scene action to prevent accidental deletion.
LEARNING CENTER IMPROVEMENTS
ADMINISTERING ONSHAPE ENTERPRISE SELF-PACED COURSE
Onshape has a new course for administrators of Onshape Enterprise. This course covers setting up enterprise level settings, features, and permissions as well as recommended strategies for how to implement different tools. This new self-paced course is available to Professional and Enterprise users.
VIDEO UPDATES
A few videos have been updated in existing courses to reflect new options and features that were released. This includes the Feature list Filters and Folders video in the Multi-part Part Studios course, the Isolate video in the Onshape Assemblies course, the Creating in-context references video in the Managed In-context Design course, and a new video on searching the Document history in the Document History and Versions course.
Please take a moment to try out these new features and improvements and leave your comments below. For a detailed list of all the changes in this update, please see the changelog.
Remember: The updates listed here are now live for all users when creating new Documents. Over the next few days, these features will also be available in Documents created before this update.
Principal Technical Services Engineer, EMEAI