Welcome to the Onshape forum! Ask questions and join in the discussions about everything Onshape.
First time visiting? Here are some places to start:
Looking for a certain topic? Check out the categories filter or use Search (upper right).
Need support? Ask a question to our Community Support category.
Please submit support tickets for bugs but you can request improvements in the Product Feedback category.
Be respectful, on topic and if you see a problem, Flag it.
If you would like to contact our Community Manager personally, feel free to send a private message or an email.

Improvements to Onshape - September 19th, 2022
Kevin_Cowles
Member, Onshape Employees
Posts: 7
PRO
Summer may have come to an end for many, but new releases of Onshape just keep coming! Today's Onshape update details the game-changing connection between Onshape and Arena PLM, as well as improvements to curve creation, drawing functionality, and much more.
ONSHAPE ENTERPRISE

ONSHAPE - ARENA CONNECTION
Earlier this week, we announced the Onshape - Arena Connection, which provides integrated cloud-native CAD, PDM, and PLM. With the click of a button, product data is instantly shared between systems, helping engineering and supply chain teams collaborate and iterate on product designs earlier in the design process. The Onshape-Arena Connection is available for all Onshape Enterprise users who also have Arena Launch or Arena Scale, at no additional cost.
GENERAL IMPROVEMENTS
PROJECTED CURVE
The Projected curve feature now allows curves to be defined using the projection of a curve and a face.
REVERT MERGE
After a merge, a message bubble appears to allow the user to revert the merge, providing a shortcut to restore the document to its pre-merge state.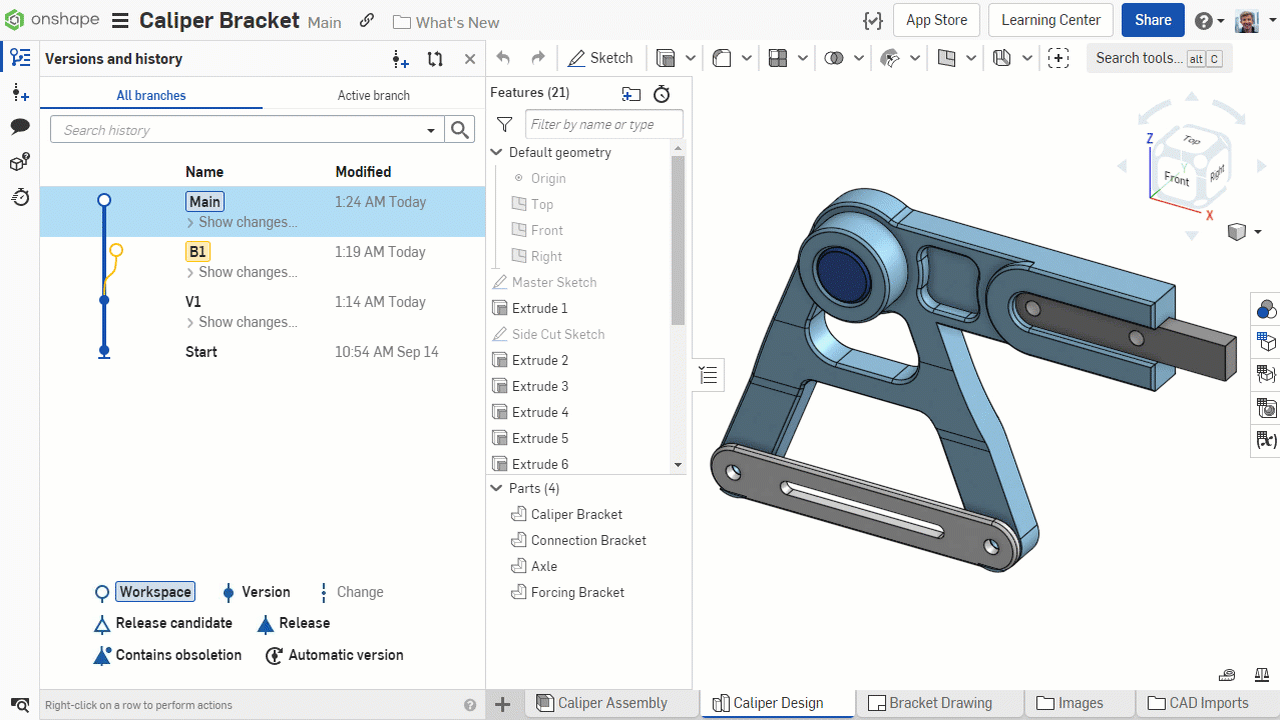 LAST CHANGE TOOLTIP FOR SELECTIVE MERGE
In the Selective merge dialog, a tooltip displays when the last change was made to a tab, and who made that change.
HOLE FEATURE UI IMPROVEMENT
Editing variables for the hole feature is now much more intuitive, as hole depth, tapped depth, and tap clearance can all now be used as driving variables.
TAB MANAGER UI IMPROVEMENT
An updated Tab manager interface matches behavior from the documents page and improves visibility.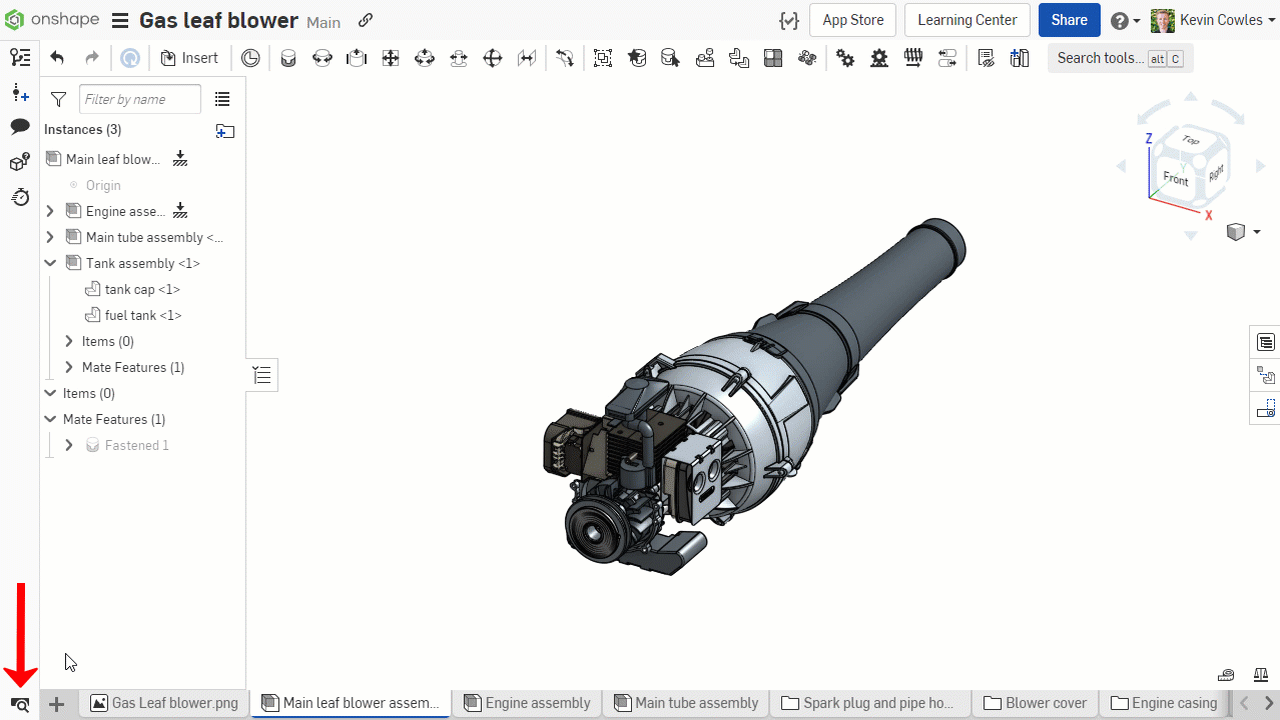 DRAWING IMPROVEMENTS
JOGS IN DIMENSION EXTENSION LINES
Create jogs in dimension extension lines to improve the organization and clarity of your Onshape Drawings.
ANNOTATIONS IN DRAWING FORMAT LAYERS
Move Geometric tolerances and Surface finish annotations between drawing layers. Move any annotation type not linked to geometry to the format layers, making drawing templatization even more powerful.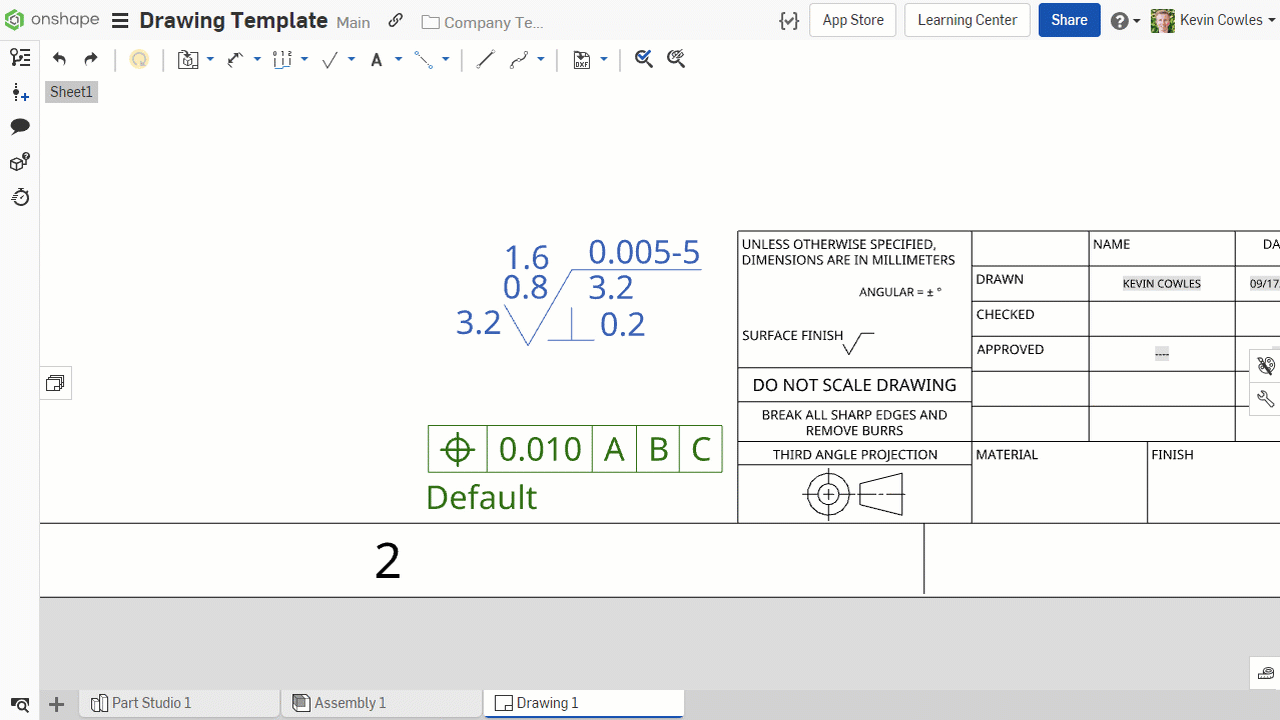 ASSEMBLY IMPROVEMENTS
ASSEMBLY TREE RIGIDITY INFORMATION
The assembly tree now provides additional information regarding the rigidity of the assembly and its subassemblies, as well as whether instances have unconstrained degrees of freedom. This helps assembly performance by ensuring that subassemblies are appropriately constrained.
EDIT SUPPRESSED MATES
You can now edit suppressed mates.


LEARNING CENTER IMPROVEMENTS
ADVANCED ONSHAPE ASSEMBLIES
A new self-paced course, 
Advanced Onshape Assemblies
, is now available in the 
Onshape Learning Center
. This course explores advanced assembly techniques including mate relations, assembly patterns and replication, display states, named positions, exploded views, items, and interference detection. This course is available to Standard, Professional, Enterprise, and EDU Onshape users.
PCB STUDIO FUNDAMENTALS
A new self-paced course, 
PCB Studio Fundamentals
, is available in the 
Onshape Learning Center
. This course describes the fundamentals for getting started with PCB Studio including importing ECAD data, creating boards and syncing to a Part Studio and Assembly, modifying PCB designs, exporting ECAD data, sharing and data management of ECAD data, and managing PCB Studio settings. This course is available to Professional and Enterprise Onshape users.
VIDEO UPDATES
There have been several video updates to existing courses in the Onshape Learning Center, including:
Update to the introduction to assemblies video to include tangent edge display option.

Update to the BOM video to include column sorting option.

Update to the mating video to include new icons in the interface for limits.


New video on how to use the format painter tool.

New video on view simplification.


New video on assembly view options including adding exploded views, named positions, display states, and hiding/showing components in a drawing.


Feature list filters and folders video updated to include nested folders.
Please take a moment to try out these new features and improvements and leave your comments in the Forum post. For a detailed list of all the changes in this update, please see the changelog.
Remember: The updates listed here are now live for all users when creating new Documents. Over the next few days, these features will also be available in Documents created before this update.