Welcome to the Onshape forum! Ask questions and join in the discussions about everything Onshape.
First time visiting? Here are some places to start:
Looking for a certain topic? Check out the categories filter or use Search (upper right).
Need support? Ask a question to our Community Support category.
Please submit support tickets for bugs but you can request improvements in the Product Feedback category.
Be respectful, on topic and if you see a problem, Flag it.
If you would like to contact our Community Manager personally, feel free to send a private message or an email.

Improvements to Onshape - September 22nd, 2023
Roy_Mutalik
Member, Onshape Employees
Posts: 30

We're delighted to share with you another update to Onshape. It includes many improvements to core functionality like Sheet metal and Drawings. It also includes a groundbreaking update to the Onshape-Arena connection that brings a new level of integration and exciting new features.
GENERAL IMPROVEMENTS

SHEET METAL HOLD LINE ALIGNMENT FOR FLANGE
A new sheet metal Flange alignment option is available. The Hold line alignment option initiates the bend of the flange starting from the existing edge of the sheet metal part.
EXPORT MULTIPLE FLAT PATTERNS FROM A PART STUDIO
A new export option, Scope, allows you to export multiple sheet metal flat patterns at once.
Single flat pattern part only - exports only the active flat pattern (which you right-clicked on to initiate the export)
All flat pattern parts in the current model - exports flat patterns of all parts created by that specific sheet metal model features. If you created more that one part using the same Sheet metal model feature (this is uncommon, and typically not suggested) it will still export each of them.
All flat patterns in the Part Studio - exports flat patterns of all sheet metal parts in the active Part Studio.
CURVE/FACE CURVATURE DEVIATION IN MEASURE
You may measure the curvature deviation between a curve and a face from a new option in the Measure tool dialog.
SECTION VIEW MEASURE TO EDGE
You may now measure directly from/to an edge on the cut face while a Section view is active.


LIST VIEW - TABLE IMPROVEMENTS
When viewing documents in List view, you may now adjust the size of the Folders and Projects section. Additionally, any columns except Name can now be moved left or right from the column heading's right-click context menu. 
SCROLL AND HORIZONTALLY RESIZE FEATURE DIALOGS
In some instances, especially when using smaller screen sizes, feature dialogs with many options would be cut off at the bottom. In this release, the entire feature dialog scrolls vertically, allowing you to access all options without having to move or resize the window. Additionally, a feature dialog can be expanded horizontally.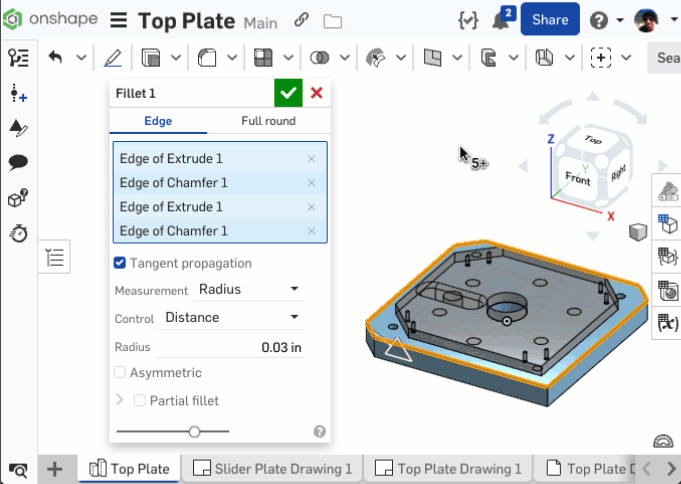 DRAWINGS IMPROVEMENTS
TOLERANCE PANEL IN INSPECTION TABLE
A Tolerance column has now been added to Inspection tables in Drawings.
DIAMETER AND RADIAL DIMENSIONS OF CENTERMARK SEGMENTS
You can directly dimension circular centermark arc segments, using the Diameter or Radial dimension tool.
ENTERPRISE IMPROVEMENTS
CREATE GENERAL TASK FROM A DOCUMENT (LIGHT USERS)
Light users may now create General tasks directly from within a document.
IMPROVED CUSTOM WORKFLOW MANAGEMENT
A new table-based interface has been added to more easily manage Enterprise custom Release management Workflows.
ARENA CONNECTION IMPROVEMENTS
SHARED RELEASE/CHANGE MANAGEMENT CAPABILITIES
We are delighted to share that Onshape Release management now directly connects to Arena Change management capabilities, keeping all release data in sync.
PLEASE NOTE: 
These connection features are available in Onshape today, and will be fully available after the Arena release in the coming days. Please check with your Customer Success Manager and/or Arena Solutions Architect for more information or assistance in enabling these features.
LEARNING CENTER IMPROVEMENTS
UPDATES: FEATURESCRIPT FUNDAMENTALS
The
FeatureScript Fundamentals
course has been updated with more content. New, interactive elements have been added to the course to assist with learning important concepts, and a new lesson on Performance Optimization is in the Advanced Topics section.
Please take a moment to try out these new features and improvements and leave your comments below. For a detailed list of all the changes in this update, please see the changelog.
Remember: The updates listed here are now live for all users when creating new Documents. Over the next few days, these features will also be available in Documents created before this update