Welcome to the Onshape forum! Ask questions and join in the discussions about everything Onshape.
First time visiting? Here are some places to start:
Looking for a certain topic? Check out the categories filter or use Search (upper right).
Need support? Ask a question to our Community Support category.
Please submit support tickets for bugs but you can request improvements in the Product Feedback category.
Be respectful, on topic and if you see a problem, Flag it.
If you would like to contact our Community Manager personally, feel free to send a private message or an email.

Improvements to Onshape - June 24th, 2020
cody_armstrong
Moderator, Onshape Employees, Developers
Posts: 205

We are excited to bring you our second update this month. This update focuses on new features and usability improvements in both assemblies and drawings. Let's dig in.
CAD IMPROVEMENTS
SHOW MATES MODE
You will find a new "Show Mates Mode" feature in the assembly toolbar. This new mode allows you to mouse over parts in the assembly and dynamically see the mates highlight.
SHOW MATES IMPROVEMENT
Now, when right-clicking a subassembly and choosing the option to "Show mates" you will only see the mates that constrain the subassembly to the top-level. In the past, all the mates within the subassembly would also be shown.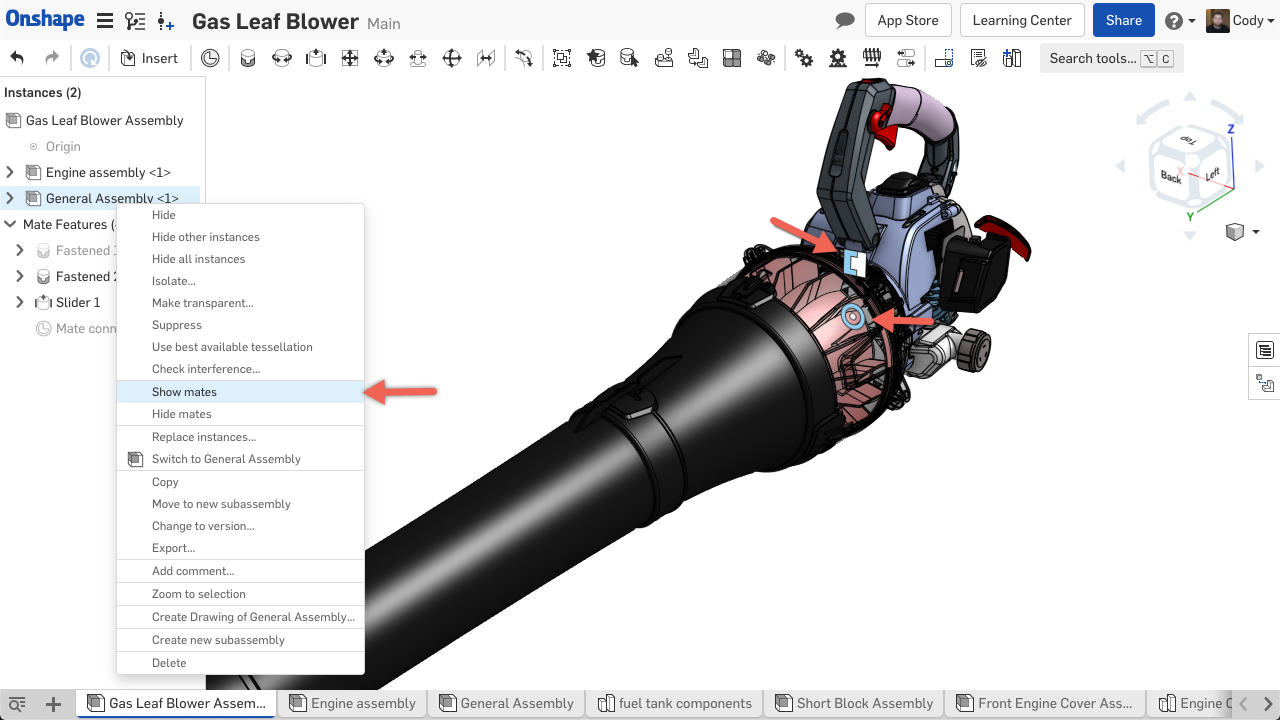 LARGE ASSEMBLY PERFORMANCE IMPROVEMENTS
Improvements have been made to the assembly architecture in Onshape to improve performance of large assemblies. These improvements will result in faster load times and less memory consumption when working with large assemblies.
DRAFT ANALYSIS IMPROVEMENTS
Improvements have been made to the Draft Analysis feature to better illustrate positive and negative degrees of draft.
VIEW CUBE IMPROVEMENTS
Clicking the arrows around the view cube now rotates the model in 15 degree increments. Previously, each click rotated the model 45 degrees. You can also now hold down the "Shift" key when clicking the arrows around the view cube to make precise 5 degree movements as opposed to the default 15 degree movements. You can use the keyboard shortcut "Shift" + arrow keys to rotate in 5 degree increments. This can be especially useful when trying to get just the right angle for a Named view.
STANDARD CONTENT IMPROVEMENTS
ISO Standard 8734 Parallel Pins have been added to the library of Onshape Standard Content.
SHEETS FLYOUT IMPROVEMENTS
The Sheet Flyout in Onshape Drawings now displays Part Number, Version or Revision, and State of the sheet reference. 
CREATE PROJECTED VIEW REFERENCING SECTION VIEW
You can now create a projected view that references a section view. The projected view is not sectioned.
SHOW SKETCH POINTS IN ONSHAPE DRAWINGS
You can now show sketch points in a drawing view in Onshape. Simply right-click a view with a sketch showing and you will see the option to "Show sketch points." You can also right-click the view and "Hide sketch points." You can control how the sketch points are displayed and their size in the Drawing properties flyout, under "Construction geometry."
CONDITIONAL VISIBILITY OF ARRAY PARAMETERS IN FEATURESCRIPT
You can now control the visibility of parameters within an array parameter with logic. This means it is now possible to create custom features with array parameters that are only shown to the user when certain conditions are met.
Please take a moment to try out these new features and improvements and leave your comments below. For a detailed list of all the changes in this update, please see the 
changelog.
Remember: The updates listed here are now live for all users when creating new Documents and over the next few days these features will also be available in Documents created before the date of this update.