Welcome to the Onshape forum! Ask questions and join in the discussions about everything Onshape.
First time visiting? Here are some places to start:
Looking for a certain topic? Check out the categories filter or use Search (upper right).
Need support? Ask a question to our Community Support category.
Please submit support tickets for bugs but you can request improvements in the Product Feedback category.
Be respectful, on topic and if you see a problem, Flag it.
If you would like to contact our Community Manager personally, feel free to send a private message or an email.

Pro tip: How to restore a deleted tab after you have made changes without losing work
Ever accidentally delete a tab only to realize it is gone much later? Simply restoring before the delete will undo a lot of work. To keep your work and get that deleted tab back, you need to cherry-pick that delete action out of history.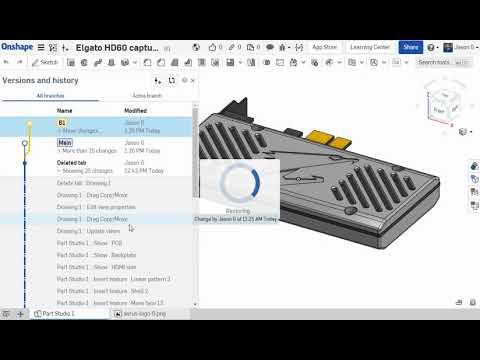 As a recap, cherry-picking is done by:
Create a version of the change that you want to remove. For deleted tabs, this is creating a version after they are deleted.
Create a branch from the new version.
Restore the new branch to the moment right before the version was created (across branches). Now it is as if that moment never happened, and your tab should be in the branch.
Merge the branch to Main.
QA Engineer - Onshape, Inc.