Welcome to the Onshape forum! Ask questions and join in the discussions about everything Onshape.
First time visiting? Here are some places to start:
Looking for a certain topic? Check out the categories filter or use Search (upper right).
Need support? Ask a question to our Community Support category.
Please submit support tickets for bugs but you can request improvements in the Product Feedback category.
Be respectful, on topic and if you see a problem, Flag it.
If you would like to contact our Community Manager personally, feel free to send a private message or an email.

Improvements to Onshape - December 19th, 2018
cody_armstrong
Moderator, Onshape Employees, Developers
Posts: 188
It's the final update of the year, and it is a big one! It has been 15 days since our last update and we are back with another round of major improvements. Let's get started.
CAD IMPROVEMENTS
CROP VIEW IN ONSHAPE DRAWINGS
You can now create Crop views in Onshape Drawings.
BROKEN OUT SECTION VIEW IN ONSHAPE DRAWINGS
You can now create Broken out section views in Onshape Drawings.
ASSIGNING TASKS TO USERS
You can now assign tasks to users with comments in Onshape. If a task has been assigned to you, you will receive an email notification as well as a notification within Onshape.
DISPLAY STATE IMPROVEMENTS
You can now edit the Display state of a drawing view from the View properties. You can also now select multiple views of the same assembly and change the display state of all of them at once.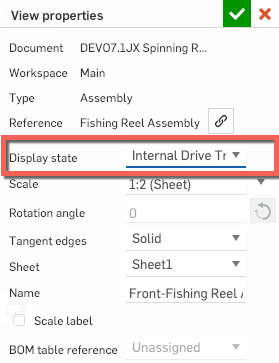 TOUCH ID AND FACE ID SUPPORT IN ONSHAPE MOBILE (iOS)
The latest version of Onshape for iOS will support Touch ID and Face ID.
EXPORT DRAWINGS FROM ONSHAPE MOBILE (ANDROID AND iOS)
The latest versions of Onshape for Android and iOS now support the ability to export drawings.
ENTERPRISE FEATURES
ACTIVITY LIST IMPROVEMENTS
Improvements have been made to the Activity list in Onshape Enterprise that allow the Project list to be resized, expanded, and collapsed.
Please take a moment to try out these new features and improvements and leave your comments below. For a detailed list of all the changes in this update, please see the
changelog.
Remember: The updates listed here are now live for all users when creating new Documents and over the next few days these features will also be available in Documents created before the date of this update.